Used Samsung Digital and IP Phones
Digital and IP Phones for Your Business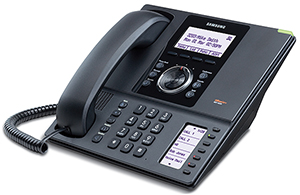 Samsung Phones - Refurbished Used
Samsung DS-5007S KPDP07SBD/XAR Digital Phones
Samsung DS-5014D KPDP14SED/XAR Digital Phones
Samsung DS-5021D KPDP21SED/XAR Digital Phones
Samsung DS-5064B KPDP64SDSD/XAR Add-On Modules
Samsung iDCS-18B KPDF18SED/XAR Digital Phones
Samsung iDCS-28B KPDF28SED/XAR Digital Phones
Samsung iDCS-8B KPDF08SED/XAR Digital Phones
Samsung SMT-I3105 SMT-I3105N/XAR IP Phones
Samsung SMT-I5210 SMT-I5210N/XAR IP Phones
Samsung SMT-I5220S SMT-I5220S/XAR IP Phones
Samsung SMT-I5220S/XAR IP Phones
Samsung SMT-I5230 SMT-I5230N/XAR IP Phones
Samsung SMT-I5230N/XAR IP Phones
Samsung SMT-I5264 SMT-I5264W/XAR Add-On Modules
Samsung SMT-I5264 SMT-I5264W/XAR IP Add-On Modules
Samsung SMT-I5343 SMT-I5343X/XAR IP Phones
Samsung SMT-I5343K/XAR IP Phones
Samsung SMT-I6010 SMT-I6010K/XAR IP Phones
Samsung SMT-I6010K/XAR IP Phones
Samsung SMT-I6011 SMT-I6011K/XAR IP Phones
Samsung SMT-I6011K/XAR IP Phones
Samsung SMT-I6020 SMT-I6020K/XAR IP Phones
Samsung SMT-I6020K/XAR IP Phones
Samsung SMT-I6021 SMT-I6021K/XAR IP Phones
Buy Used IP Phone System - Refurbished
Samsung is the recognized leaders in Business VOIP Phone Systems & Solutions and optimize the work environment for collaboration with SCM platforms, IP phones, switches and applications. The Samsung Digital and IP Phones and systems are perfect for small to mid-sized businesses are tailored to maximize your resources.
Sell Used Samsung IP Phone System
We will pay you top dollar for your used Samsung IP phone system. Just contact us today to sell used Samsung VoIP phone systems in good working condition. We pay for freight. Call for more details.
VoIP Phone Systems - Used & New
We have many Samsung phones in stock. We can design a custom solution to fit your need. We can also install your used Samsung telephone system anywhere in the nation.