Used NEC UX5000 Systems and Cards
Refurbished NEC UX5000 Telephone Systems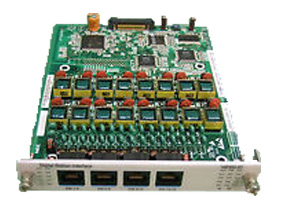 Used NEC UX5000 Phones Available Now
Visit pages below for your used NEC phones needs.
Refurbished NEC UX5000 Systems and Cards
The NEC UX5000 is the ideal solution for both improving business processes with telephony applications and reducing recurring ownership costs by leveraging VoIP and ease of maintenance of the UX500.
The NEC UX5000 supports pure VoIP, seamless networking, traditional digital, or a combination of all three to meet your needs. The system allows your entire voice and data network to be run over the same connection creating a significant cost saving and convenience of only needing one service provider.
NEC UX5000 19" 6-Blade Chassis KSU Cabinet SN1759 CYGM
NEC IP3WW-082U-A1 0911058 8-Port Digital Station / 2-Po
NEC UX5000 IP3WW-1PRIU-A1 T1/PRI Interface Blade
NEC UX5000 IP3WW-4COIU-LG1 4-Port Loop Ground-Start Trunk Blade
NEC IP3WW-4SLIDB-A1 0911042 4-Port Analog Stat
NEC IP3WW-4SLIU-A1 0911040 4-Port Analog Station Blade
NEC IP3WW-8ESIDB-B1 0911076 8-Port Digital Station Daughter Board
NEC IP3WW-8ESIU-B1 0911077 8-Port Digital Station Blade
NEC UX5000 IP3WW-8SLIU-A1 8-Port Analog Station Interface Blade
NEC IP3WW-8SLIDB-A1 0911046 8-Port Analog Stat
NEC UX5000 IP3WW-16ESIU-A1 16-Port Digital Station Interface Blade
NEC UX5000 IP3WW-VMDB-B1 w/ UX Intramail 16 Hours
Used NEC IP-CTS Color Screen Display Telephone (0910080)
Used NEC DG-12e Color Screen Display Telephone (0910064)
Used NEC DG-32e Display Telephone (0910056)
Sell Used NEC UX5000 Cards
We will pay you top dollar for your used NEC phone system and NEC phones. Just contact us today to sell used NEC phone systems and NEC phones in good working condition. We pay for freight. Call for more details.
Buy Used NEC UX5000 Systems- Refurbished
We can quote an existing system configuration or design a refurbished NEC phone system to fit your needs. If required, we can install your refurbished used NEC telephone system through our nationwide network.