Used NEC Aspire Systems and Phones
Refurbished NEC Aspire Telephone Systems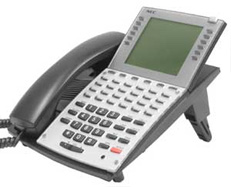 Used NEC Aspire Phones Available Now
Visit pages below for your used NEC phones needs.
Used NEC Aspire Systems and Phones
Aspire allows you to converge your voice and data networks and enjoy the many advantages of Voice over Internet Protocol (VoIP) while enjoying the hundreds of features you've come to expect from traditional digital/analog switching.
Aspire lets your organization benefit from the potential cost-saving advantages of IP, even if you are not ready to migrate to 100% IP Telephony immediately. That's because Aspire gives you a choice: Deploying traditional circuit-switched technology, VoIP or a combination, all from one system! You can adopt VoIP when and where you need it.
NEC Aspire DTH 4R-2 900MHz Cordless Phone 730087
NEC Aspire Cordless Phone DTR 4R 730088
NEC AC-2R UNIT Power Adapter 780135
NEC Aspire 22-Button Hands-Free Phone 890041
NEC Aspire 22-Button Hands-Free Display Phone 890043
NEC Aspire 34 Button Hands-Free Speaker Display Phone 890045
NEC Aspire 2-Button Phone 890047
NEC Aspire 34-Button Hands-Free Large Display Speaker Phone 890049
NEC 110 Button DSS Console 890051
NEC Aspire 24 Button DLS Console Refurbished 890053
NEC Aspire 34 Button IP Display Phone 890065
NEC Aspire 4 Button IP Phone Refurbished 890072
NEC Aspire Analog Station Card IP1NA-8SLIU-A1 891017
Sell Used NEC Aspire Phones
We will pay you top dollar for your used NEC phone system and NEC phones. Just contact us today to sell used NEC phone systems and NEC phones in good working condition. We pay for freight. Call for more details.
Buy Used NEC Aspire Phones - Refurbished
We can quote an existing system configuration or design a refurbished NEC phone system to fit your needs. If required, we can install your refurbished used NEC telephone system through our nationwide network.