Find your product
POLYCOM PHONES
SHORETEL PHONES
WIRELESS VOIP PHONES
NORSTAR SYSTEMS
AVAYA SYSTEMS
PANASONIC SYSTEMS
TOSHIBA PHONES
Used CISCO
AASTRA PHONES
SNOM PHONES
MITEL PHONES
NEC PHONES AND SYSTEMS
SAMSUNG PHONES
VIVOTEK PHONES
ALLWORX PHONES
FUJITSU PHONES
YEALINK PHONES
ADTRAN SYSTEMS
Used Polycom SoundPoint IP Phones
Refurbished Polycom SoundPoint IP Telephones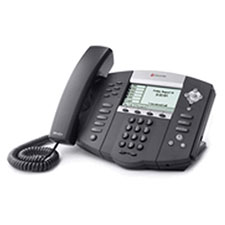 Used Polycom SoundPoint Phones
Polycom's series of SoundPoint IP Telephones are perfect enterprise friendly IP desktop phones. Polycom Soundpoint phones are designed to make telecommunication effective and productive in the workplace. The SoundPoint IP series features comprehensive, great-sounding, high-quality IP phone solutions for businesses and enterprises of all sizes.
When you use a Polycom SoundPoint Phone, you will experience:
Excellent sound quality that produces lifelike audio communications
Broad interoperability
Intuitive, expandable, business-class desk phones that are easy to provision and manage
At Business Phone Systems, we have a great Polycom SoundPoint Phones available including the Polycom Soundpoint IP 320, IP 330, IP 331, IP 335, IP 450, IP 501, IP 550, IP 560, IP 601, IP 650, IP 650 Expansion Module, IP 670, IP 670 Expansion Module, Pro SE-220 , Pro SE-225. Call us today at 1-888-234-4975, and we'll be able to quickly help you with your order.
Sell Used Polycom SoundPoint Phones
We will pay you top dollar for your used Polycom phone system. Just contact us today to sell used Polycom phone systems in good working condition. We pay for freight. Call 1-888-234-4975 for more details.
Buy Used Polycom SoundPoint IP Phones - Refurbished
We can quote an existing system configuration or design a refurbished Polycom phone system to fit your needs. If required, we can install your refurbished used Polycom telephone system through our nationwide network.
Used Polycom SoundPoint IP Phones Available Now
Visit pages below for your used Polycom phones needs.
Used Polycom Soundpoint Phones
Polycom SoundPoint IP 320 2200-12320-025
Polycom SoundPoint IP 321 2200-12360-025
Polycom SoundPoint IP 330 2200-12330-025
Polycom SoundPoint IP 331 2200-12365-025
Polycom SoundPoint IP 335 2200-12375-025
Polycom SoundPoint IP 450 Phone 2201-12450-001
Polycom SoundPoint IP 501 2201-11501-001
Polycom Soundpoint IP 550 SIP Phone 2200-12550-025
Polycom SoundPoint IP 560 2200-12560-025
Polycom SoundPoint IP 601 2201-11601-025
Polycom Soundpoint IP 650 SIP Phone 2200-12651-025
Polycom SoundPoint IP 650 2200-12750-025 Expansion Module
Polycom SoundPoint IP 670 2200-12670-001
Polycom SoundPoint IP 670 2200-12770-025 Expansion Module
Polycom SoundPoint Pro SE-220 2200-06315-001
Polycom SoundPoint Pro SE-225 2200-06325-102
Questions? Call now.
We will match or beat any price. All products come with a warranty.
Buy Quality Used
Phone Systems
Choose from packaged systems or we can tailor a system just for you. Either way, you will save on top quality refurbished used phone systems for your small business. Ask about installation.
Sell Your Used
Phone System
Visit What We Buy for details we need to make an offer for your used phone system. We handle and pay for freight.
Your Warranty
All phone systems and phones are fully tested, refurbished and delivered with a warranty. We guarantee your complete satisfaction.
Customer Comments
"The sales person at Business Phone Systems was patient and very courteous. They helped us figure out what we needed and we bought a phone system on the spot. It was delivered quickly, looked like new and works great. And they bought our old system from us as well."
"We have been buying from Business Phone Systems for many years and have been completely satisfied with every aspect of our dealings with them."