Find your product
POLYCOM PHONES
SHORETEL PHONES
WIRELESS VOIP PHONES
NORSTAR SYSTEMS
AVAYA SYSTEMS
PANASONIC SYSTEMS
TOSHIBA PHONES
Used CISCO
AASTRA PHONES
SNOM PHONES
MITEL PHONES
NEC PHONES AND SYSTEMS
SAMSUNG PHONES
VIVOTEK PHONES
ALLWORX PHONES
FUJITSU PHONES
YEALINK PHONES
ADTRAN SYSTEMS
Used Cisco 15454E-E1-42 42 Port Expansion Module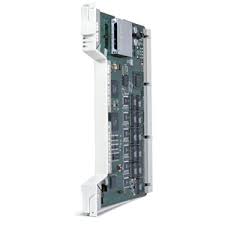 One Year Warranty
Used Cisco 15454E-E1-42
Quality used CISCO 15454E-E1-42 will save you considerable money when compared to purchasing new CISCO 15454E-E1-42. You get a full Platform.
We have hundreds of used Cisco 15454 hardware available to choose from. Call us if you don't see the used Cisco 15454 hardware you need.
Used Cisco 15454E-E1-42 Specifications
The Cisco 42-Port E1 Interface card delivers greater service densities and advances overall platform economics by reducing system footprint for the ONS 15454 SDH multiservice provisioning platform (MSPP). The E1-42 module provides 42 G.703 compliant E1 interfaces in a single-slot footprint for the ONS 15454 SDH. The E1-42 card is capable of receiving 42 independent asynchronous E1 signals and mapping them into VC-12s (Virtual Container) per ITU G.707 for further multiplexing, switching, or transport. The E1-42 card also provides performance monitoring and alarm reporting framing formats per ITU G.826. Each E1 interface on the E1-42 card operates independently at 2.048 Mbps, with the physical termination of each E1 located at the Front Mount Electrical Connection (FMEC) module in the Electrical Facility Connection Assembly (EFCA) chassis. The E1-120NP FMEC is required when the E1-42 card is configured in unprotected mode. When the E1-42 card is configured in a 1:3 protection group, the E1-120PROA and E1-120PROB FMECs provide a 120-Ohm balanced, termination capability. For 75-Ohm terminations, an external one rack unit high converter (E1-75BB) is available which allows conversion from 120-Ohm to 75-Ohm and vice versa. The E1-42 card utilizes three card-level light indicator indicators on the card faceplate. The red FAIL light indicator indicates a hardware problem on the E1 module. The bi-color ACT/STBY light indicator indicates the modules' current operational status. When the ACT/STBY light indicator is green, it indicates that it is the working module and is in the active condition. When the ACT/STBY light indicator is amber, it indicates that it is the protection module and is operating in a stand-by condition. The yellow SF indicates a problem receiving incoming data (LOS, LOF, or high BER) on one or more of the E1 ports on the card. The user can query individual ports for further alarm resolution or port conditions via the LCD display located on the fan tray assembly or access the system via Cisco Transport Controller (CTC)
We have this refurbished card available and are also actively buying. Please contact us for more details.
Refurbished Cisco 15454E-E1-42 Hardware Available
We have most Cisco 15454 optical transport hardware available. We can design a custom solution to fit your needs. We can also ship your used Cisco 15454 hardware anywhere in the nation.
Questions? Call now.
We will match or beat any price. All products come with a warranty.
Buy Quality Used
Phone Systems
Choose from packaged systems or we can tailor a system just for you. Either way, you will save on top quality refurbished used phone systems for your small business. Ask about installation.
Sell Your Used
Phone System
Visit What We Buy for details we need to make an offer for your used phone system. We handle and pay for freight.
Your Warranty
All phone systems and phones are fully tested, refurbished and delivered with a warranty. We guarantee your complete satisfaction.
Customer Comments
"The sales person at Business Phone Systems was patient and very courteous. They helped us figure out what we needed and we bought a phone system on the spot. It was delivered quickly, looked like new and works great. And they bought our old system from us as well."
"We have been buying from Business Phone Systems for many years and have been completely satisfied with every aspect of our dealings with them."