Find your product
POLYCOM PHONES
SHORETEL PHONES
WIRELESS VOIP PHONES
NORSTAR SYSTEMS
AVAYA SYSTEMS
PANASONIC SYSTEMS
TOSHIBA PHONES
Used CISCO
AASTRA PHONES
SNOM PHONES
MITEL PHONES
NEC PHONES AND SYSTEMS
SAMSUNG PHONES
VIVOTEK PHONES
ALLWORX PHONES
FUJITSU PHONES
YEALINK PHONES
ADTRAN SYSTEMS
Used Polycom VVX Expansion Module 02-114980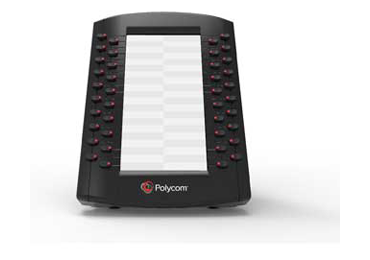 Polycom VVX Expansion Module 02-114980
Polycom VVX Expansion Module 02-114980 is the Polycom VVX Expansion Module is an optimal solution for telephone attendants, and other "power users" who manage multiple simultaneous telephone calls on a daily basis. Turn Your Polycom VVX Business Media Phone Into a High-Performance Attendant Console. The VVX Expansion Module's simple user interface and advanced call handling capabilities and help boost telephone attendant productivity. Give your busy telephone attendants, receptionists, administrative assistants and secretaries the ability to handle high volumes of concurrent incoming calls with ease. Easy to install and End User configurable (Instant setup through Web configuration utility or traditional provisioning methods through host phone). Leverage previous IT infrastructure investments and providing expandability. Expandable with "plug-and-play" modules that requires no set-up - power and signaling are provided by the host VVX phone
Polycom VVX Expansion Module 02-114980
Quality used Polycom VVX Expansion Module 02-114980 (Gigabit Ethernet) Business Media Phones Business Media Phone phones will save you considerable money when compared to purchasing new Polycom VVX Expansion Module 02-114980 Business Media Phone phones. The Polycom VVX 410 (Gigabit Ethernet) Business Media Phones unites advanced IP telephony, videoconferencing and business applications into a seamless communication experience. You get a full one-year warranty for Polycom VVX Expansion Module 02-114980 Business Media Phone phones. We have used Polycom phones in stock. Call us if you don't see the used Polycom phones you need.
Refurbished Used Polycom Compatible Systems Available
We have many Polycom systems in stock. We can design a custom solution to fit your need. We can also install your used Polycom telephone system anywhere in the nation.
Questions? Call now.
We will match or beat any price. All products come with a warranty.
Buy Quality Used
Phone Systems
Choose from packaged systems or we can tailor a system just for you. Either way, you will save on top quality refurbished used phone systems for your small business. Ask about installation.
Sell Your Used
Phone System
Visit What We Buy for details we need to make an offer for your used phone system. We handle and pay for freight.
Your Warranty
All phone systems and phones are fully tested, refurbished and delivered with a warranty. We guarantee your complete satisfaction.
Customer Comments
"The sales person at Business Phone Systems was patient and very courteous. They helped us figure out what we needed and we bought a phone system on the spot. It was delivered quickly, looked like new and works great. And they bought our old system from us as well."
"We have been buying from Business Phone Systems for many years and have been completely satisfied with every aspect of our dealings with them."